19th Annual State Conference Of AOGCG 2023
Organized by Raipur Obstetrics & Gynaecology Society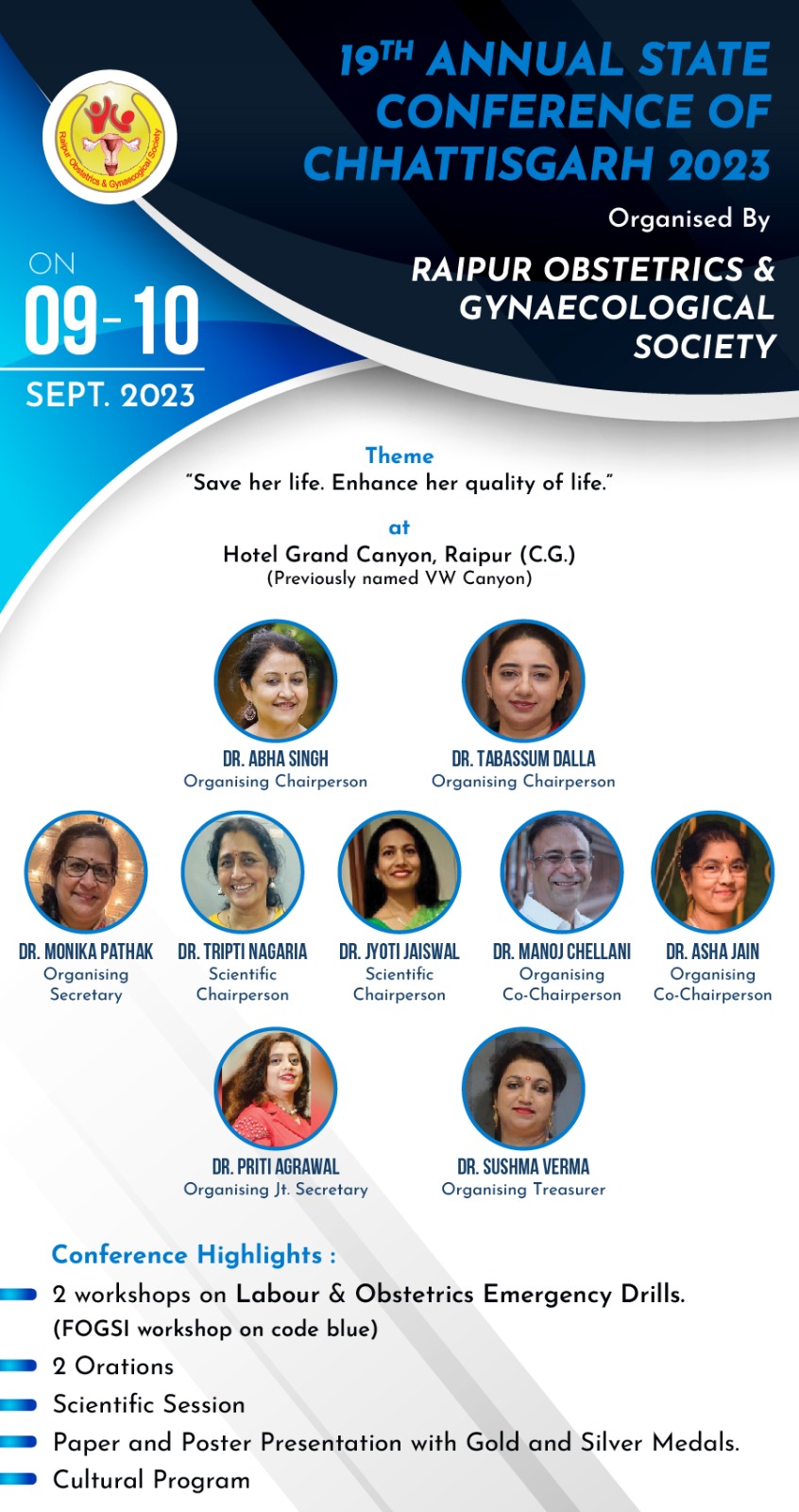 Registration:
For registration click here. For payment you can pay via razorPay in registration page, Cash or Cheque direct handover to us.
Delegates : 4000/- with workshop before 30th Aug
Non Members : 4500/- with workshop before 30th Aug
PG Students : 3000/- with workshop before 30th Aug
Spot Registration
Delegates : 5000/- with workshop
PG Students : 4000/- with workshop
After 30 August
Fees Till 8th September 2023
Delegates : 4500/- with workshop
Non Members : 5000/- with workshop
PG Students : 3500/- with workshop
Accompanying person : 3500/-
Dear esteemed colleagues,
As we approach our annual conference, I want to extend my warmest greetings to each one of you. This conference is a time for us to come together, share our experiences, and collaborate on shaping the future of our organization. The theme of the conference is "save her life. Enhance the quality of her life".
Let's welcome our 2 days conference cum workshop due to be held on the 9th and 10th September 2023.The workshops include advanced labor ward management and extensive drills on obstetric emergencies.
We will have selected faculties from all over the country to help us improve our clinical skills. The other scientific sessions will be interesting too as each topic and the respective speaker is hand picked by our dedicated scientific committee.
I am truly honored to be part of such a talented and dedicated team, and I believe that our collective efforts will lead to remarkable achievements. Let us use this opportunity to foster innovation, exchange knowledge, and strengthen our bonds as we work towards common goals.
Throughout the conference, I encourage you all to engage actively in discussions, seek out new perspectives, and forge connections that will enhance our collaboration in the coming year.We are not only going to have a brainstorming scientific sessions but also a beautiful opportunity to showcase our talent in one of its kind unique cultural programme with a theme.
I am sure that together, we can overcome challenges and build a stronger, more vibrant society.
I look forward to meeting each one of you personally and celebrating our successes during this conference. Safe travels to those coming from afar, and let us make the most of this extraordinary gathering.
Thank you for your unwavering commitment, and I am excited to see what we will accomplish together.
Warm regards,
Dr Tabassum Dalla
President
---
Behind all the successful men/women, is a"mother".When a mother sets off on a journey of her pregnancy, it may be a challenging or an exhausting or a rewarding journey! We as her treating doctors have to navigate her throughout in a way to minimize her risks and make her as rewarding as possible!
We are gathering together to learn from each other on the theme of our annual conference this year, "Save her life. Enhance the quality of her life".
Please join hands with us for the noble cause! See you all there on the 9th and 10th of September 2023 at Hotel Grand Canyon, Raipur (Previously named Hotel VW Canyon)

Regards
Dr Abha Singh
Paton and past president
ROGS
Saving a life isn't always about performing complicated medical procedures. It is something more. It is about putting a smile on someone's face and hearing them sincerely " Thank Us! "
So here we are with our Annual National Conference with the theme- *"Save her life, Enhance the quality of her life"*
There'll will be panel discussions on various topics so let's all gather together to share ideas and explore new vision regarding the same. Remember not to shunt away ideas or suggestions no matter how silly or meaningless they may sound…. A tiny silly idea can envisaged into something brilliant sooner or later.
Our responsibility is to deliver quality humanitarian action that makes a positive difference in people's lives that reduces their risks and vulnerabilities, and enhances their potential.
We'll also be having an ethnic event which will be uplifting and exhilarating so do join us for the gala night.
With relentless support of everybody, let's practise these in our work, live by them, teach them, help communities and societies understand them.
With regards,
Dr Monika Pathak
Secretary
Registration
Registration for this event is currently open.